This listing recently sold for $1,879,000.
Just Sold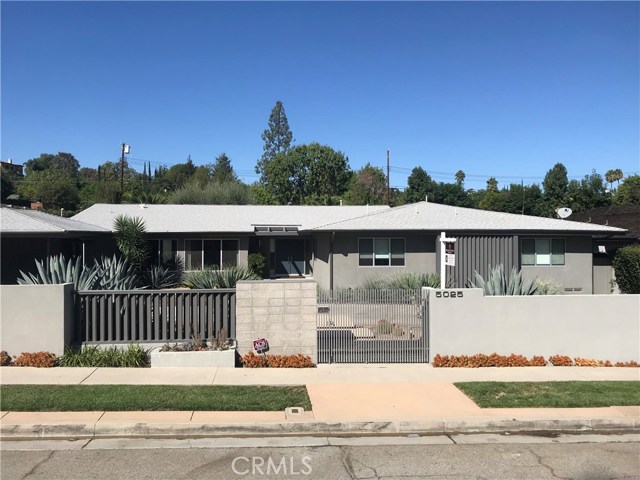 From the moment you walk through the gate into this ultra cool Mid-Century Modern home, you won't want to leave this private oasis located south of Ventura Blvd in the heart of Tarzana. A zen entryway sets the tone for this meticulously designed 4bed/5bath home. The chef's kitchen is just one focal point with Thermador stainless appliances, including induction cooktop, double ovens, 60" refrigerator/freezer, 2 dishwashers & Subzero beverage fridge.This area accents the oversized open breakfast/dining area which makes this the perfect place to host parties. Terrazzo tile floors & walnut wood cabinetry are highlighted throughout the main living areas. In the formal living room, the stacked stone fireplace is emphasized & blows heat to the outside patio to keep you warm on cold days.The master retreat looks out to this Palm Springs inspired paradise & features double closets w/walnut floors & an amazing master bathroom with tile walls, soaking tub and large shower. Additionally, there's a detached office with a courtyard, storage compartments on the outside of the house, built-ins in all of the closets. The gorgeous grassy backyard is perfect for entertaining with a sparkling Micro Pebble pool, two changing rooms/storage for pool equipment, & a spacious patio with overhang. So many special features that make this a dream home, including solar for the home, LED recessed lights, outdoor motion sensor lights, security cameras, and double filtered water in the kitchen.
Regardless of whether you're buying or selling a home, it is important to keep your house looking great at all times. By doing so, you'll be able to boost your home's appearance and maintain or increase your house's value for years to come.
A professional cleaning service remains a popular choice for homeowners, as this service makes it easy for homeowners to enhance the quality and appearance of a residence. Finding the right home cleaning service, however, may seem like an uphill climb, particularly for homeowners who are searching for a professional cleaning service for the first time.
Lucky for you, we're here to take the guesswork out of finding the right home cleaning service – here are three tips to streamline the process of discovering the ideal professional cleaning service.
1. Ask Friends and Family Members for Help
Friends and family members serve as valuable resources, especially if you're searching for a home cleaning service. These loved ones may be able to offer recommendations based on their past professional cleaning service experiences, ensuring you can find a terrific home cleaning service in no time at all.
Ask friends and family members about their past home cleaning service experiences. This may allow you to find a trusted professional cleaning service, one that can help you transform your ordinary residence into a dazzling one.
2. Browse Customer Reviews
Professional cleaning services are readily available nationwide, so how can you differentiate a great home cleaning service from a mediocre one? Customer reviews, of course!
Yelp, Angie's List and other home service review websites can help you take the guesswork out of finding a professional cleaning service. These websites publish positive and negative home cleaning service reviews from customers, ensuring you can gain insights into various professional cleaning services that you may struggle to obtain elsewhere.
Spend some time browsing customer reviews online – you'll be glad you did! If you explore customer feedback from across the web, you can better understand what separates a wonderful professional cleaning service from a subpar one.
3. Get Support from a Real Estate Agent
Real estate agents offer expert tips and guidance to homebuyers and home sellers alike. As such, they understand the best home cleaning services in numerous cities and towns and are happy to help you discover the perfect professional cleaning service.
Furthermore, real estate agents may be able to help you find a home cleaning service that fits your schedule and budget. These agents understand that is paramount to employ a professional cleaning service that is available at dates, times and prices that work for you. Thus, real estate professionals will go above and beyond the call of duty to help you discover the right home cleaning service at any time.
A home cleaning service ensures you can eliminate dust, debris and odors from your residence. And if you dedicate the necessary time and resources to hire a professional cleaning service today, you can minimize such problems both now and in the future.
This listing recently Leased for $6,500.
Just Leased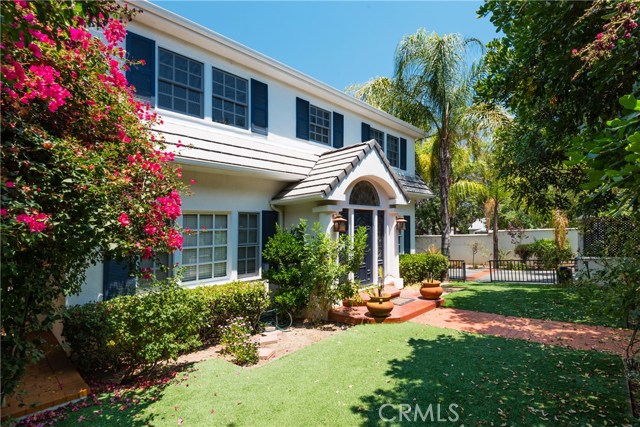 Incredible Reduction!!! Make your offer!!! Behind the charming gate, this picturesque private property has everything you could possibly need to feel comfortably at home. This 5 bedroom/5 bathroom house with additional bonus room+bathroom (totaling 6 bathrooms) in a separate unit above the garage, has gorgeous wood floors with ample space & storage. The recently updated kitchen shows off it's features, including oversized refrigerator and stainless steel double ovens, and has a lot of counter space. Great for entertaining, it boasts a formal dining room, living room, large family room, and what could be a library/playroom/office. Off of the kitchen, there are maid's quarters which are currently being used as an office w/built-ins. There is also a downstairs powder room that is easily accessible for guests. The kitchen leads to a beautiful patio area overlooking the tranquil backyard with built-in BBQ. The spacious master suite has a fireplace, walk-in closets and bathroom. 3 additional upstairs bedrooms are nice-sized, with one en-suite. The huge bonus room above the garage has a drop down movie screen that is perfect for a screening room, office or playroom. Additional features include: upstairs laundry rooms and downstairs "mud" room, synthetic grass, 3 car garage, locking front gate, electric gate to the huge driveway and so much more!
The weeks and days leading up to a home closing can be stressful, particularly for a homebuyer who is already trying to do everything possible to secure his or her dream residence. Fortunately, we're here to help you simplify the process of getting to your closing date.
Now, let's take a look at three tips to ensure you can enjoy a fast, easy home closing.
1. Get Your Paperwork Ready
It often helps to get all of your homebuying paperwork ready before you pursue a residence. That way, you can minimize the last-minute stress associated with searching far and wide for pay stubs, tax returns and other documents that you'll ultimately need to get financing for a residence.
Furthermore, you should meet with local banks and credit unions as soon as you can. If you can get approved for a mortgage prior to starting a home search, you may be able to speed up the process of acquiring your ideal residence.
2. Be Prepared to Cover Your Closing Costs
Although you might have financing to cover your monthly mortgage payments, it is important to remember that you may need to pay closing costs to finalize your home purchase. As such, if you begin saving for your closing costs today, you can guarantee that you'll have the necessary funds available to purchase your dream residence on your scheduled closing date.
Also, you should be prepared to present a cashier's check or wire funds when you close on a house. If you plan ahead, you should have no paying off your closing costs when your complete your home purchase.
3. Schedule Your Final Walk-Through Before Your Closing Date
When it comes to a final walk-through on your dream house, why should you leave anything to chance? Instead, set up the final walk-through at least a few days before you're scheduled to close on a house.
If you find problems with a house during a final walk-through, you'll want to give the seller plenty of time to address these issues. Thus, if you schedule a final walk-through several days before your closing date, you can ensure that any home problems can be corrected without putting your closing date in danger.
For homebuyers who are worried about a home closing, there is no need to stress. In fact, if you work with an expert real estate agent, you can receive plenty of support throughout the homebuying journey.
Typically, a real estate agent can explain what you should expect in the time leading up to your closing date. If you have any concerns or questions before a home closing, a real estate agent is happy to address them. Plus, when your closing date arrives, a real estate agent will help you remain calm, cool and collected as you purchase a home.
Ready to streamline the process of closing on a house? Use the aforementioned tips, and you can reap the benefits of a quick, seamless home closing.
Stress is the elephant in the car during the house hunting process. It stays with you even after you get home from hours of walking through three to five houses in a single day. House hunting stress keeps you up at night, worrying that you will never find the  perfect house.
How house hunting stress could ruin your most beloved relationships
Let house hunting stress run a muck and it could damage your closest relationships.  Arguments between you and your partner or children could erupt, even migrating into other areas like social behaviors, work life balance issues and parental support.
Damage that house hunting stress causes is far reaching. Even so, you might not always know when you are experiencing the stress. Therefore, the first step in dealing with the stress is to recognize that you are developing or have already developed it. Among the house hunting stress signs are:
Less sleep at night, including difficulty falling and staying asleep
Headaches, particularly recurring headaches or worsening headaches if you have a habit of developing headaches
Irritable bowels whether that manifest through constipation or diarrhea
Unexplainable weight loss or weight gain
Joint stiffness (stress could contribute to inflammation which can cause joint pain)
Short patience
Emotional eruptions
Sadness that lingers, especially when you start telling yourself that you're sure to miss out on a great home deal
Fears that you won't be able to afford mortgage payments on the house that you really want, the house that's located in the area that you most want to reside in
Reduce or eliminate house hunting fears as soon as you spot them. Achieving this takes an honest self-review. You could reduce or eliminate house hunting fears by:
Admitting that you are afraid
Writing down what it is about buying a house that scares you (i.e. mortgage payments, job uncertainty, leaving your current home)
Letting go of the idea that you have to find the perfect house
Opening to the practicality of buying a house that you can afford to make monthly payments on and upgrade over one to three years
Scheduling open house visits across several days  and weeks, so you're not cramming house visits into a tight time window
Speaking with your realtor about your concerns
Performing data analysis on houses that you want to buy
Researching communities that you're interested in buying houses in
Getting advice from family, friends and colleagues who have bought houses
Wiping out house hunting stress
Stress, in any form, is generally not good. Yet, stress is so common that it almost seems organic. By not telling yourself that you have to find the perfect house, you could actually shorten the time that it takes you to find a house that meets your family's needs.
Openness to compromise on certain items like kitchen cabinet color, shag or traditional carpeting and a finished or unfinished basement could reduce stress around the need to completely agree on every house amenity. This type of compromise can also reduce or soften disagreements between couples or parents and children.
In the event that you are unable to work through house hunting stress, the next step might be to postpone house shopping for a few days or weeks. Being open to the idea of expanding or upgrading your current home is another alternative. Whichever path you take, remember that houses will always be on the market. Stress and worry won't find you the right house. Neither will sleeplessness or arguing with loved ones, the very people who you may be living at the new house with.