Just Listed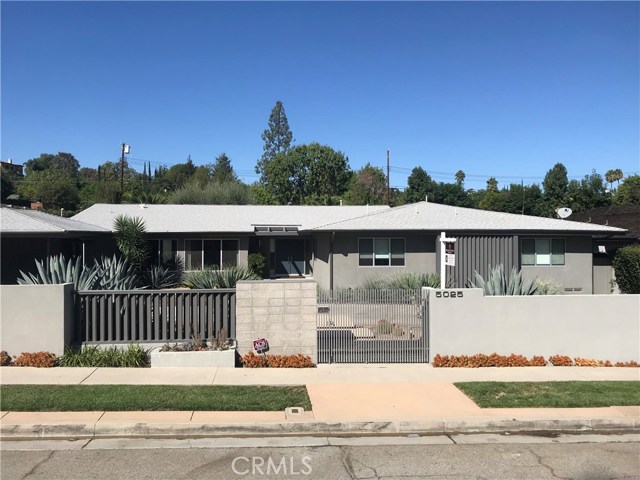 From the moment you walk through the gate into this ultra cool Mid-Century Modern home, you won't want to leave this private oasis located south of Ventura Blvd in the heart of Tarzana. A zen entryway sets the tone for this meticulously designed 4bed/5bath home. The chef's kitchen is just one focal point with all Thermador stainless appliances, including induction cooktop, double ovens, 60" refrigerator/freezer, 2 dishwashers & Subzero beverage fridge.This area accents the oversized open breakfast/dining area which makes this the perfect place to host parties. Terrazzo tile floors & walnut wood cabinetry are highlighted throughout the main living areas. In the formal living room, the stacked stone fireplace is emphasized & blows heat to the outside patio to keep you warm on cold days.The master retreat looks out to this Palm Springs inspired paradise & features double closets w/walnut floors & an amazing master bathroom with tile walls, soaking tub and large shower. Additionally, there's a detached office with a courtyard, storage compartments on the outside of the house, built-ins in all of the closets. The gorgeous grassy backyard is perfect for entertaining with a sparkling Pebbletec pool, two changing rooms/storage for pool equipment, & a spacious patio with overhang. So many special features that make this a dream home, including solar for the home, LED recessed lights, outdoor motion sensor lights, security cameras, and double filtered water in the kitchen.
Looking to relocate to California? Exploring the Golden State housing market usually represents a great first step for those who want to move to California soon.
Homebuyers who understand the ins and outs of the California real estate market may be better equipped than others to find a high-quality house at a budget-friendly price. Lucky for you, we're here to teach you about the California housing market and what to expect before you buy a Golden State residence.
Here are three things you need to know before you buy a house in California.
1. The housing market fluctuates constantly.
The California housing market varies. As such, a seller's market can morph into a buyer's market quickly.
For California homebuyers, it is important to dedicate the necessary time and resources to understand the differences between a seller's market and a buyer's one. By doing so, a homebuyer can boost his or her chances of acquiring a first-rate residence.
If you want to buy a California home, check out the prices of houses that meet your criteria. Also, examine the prices of California residences that recently sold. With this housing market data at your disposal, you'll be able to establish a realistic price range for your home search.
2. If you find a house that you want to purchase, you should submit an offer immediately.
Homebuyers likely will need to act quickly to acquire a California residence, and perhaps it is easy to understand why.
A top-notch California house is valuable, and as such, may sell only days after it becomes available. Thus, a California homebuyer will need to be ready to submit a competitive offer on a home that he or she wishes to purchase – or risks losing this residence to a rival homebuyer.
If you find a Golden State home that you want to buy, submit an offer as soon as possible. Because if you wait too long, you may miss out on an opportunity to acquire your dream residence.
3. Hiring a real estate agent can make it simple for you to navigate the homebuying process.
A real estate agent can make it easy for you to transition from homebuyer to homeowner. This real estate professional can serve as your guide throughout the homebuying process, enabling you to find the perfect California home without delay.
If you hire a real estate agent, you can eliminate potential roadblocks that could slow you down along the homebuying journey. For example, your real estate agent will keep you up to date about new California homes as they become available. He or she also will offer homebuying tips, set up home showings and negotiate with a home seller to help you get the best price possible.
Perhaps best of all, your real estate agent will offer honest, unbiased recommendations. That way, you can make an informed homebuying decision and purchase a Golden State residence that you'll be able to enjoy for years to come.
Take the guesswork out of purchasing a California house. Use the aforementioned tips, and you should have no trouble buying a terrific Golden State residence.
Moving into a new house takes a lot of time and a lot of money. It can take months to feel like you're truly "moved in" once you've finally gotten the keys to your new home. As a result, many people rush to purchase and set up their houses as quickly as possible.
If--like most people--you're on a budget, it isn't always realistic to expect your home to be completely furnished set up in just a couple of weeks. That's why it's important to have a plan of your priorities when moving into a new home.
In this article, we're going to talk about some of the "need now" and "it can wait" items for your home. In creating this list for your home you can make your move a smoother process and help yourself feel at home sooner without having to spend every waking hour (and every cent of your bank account) furnishing your new home immediately.
Read on for a list of the items you need at move-in, the things you should prioritize within the first weeks, and those that can wait.
What you need now
If you're moving from an apartment or a former house, chances are you have a lot of the items you'll need to get started in your new home. These are essentials like mops, vacuum cleaners, and your kitchen and bathroom essentials.
Next, you'll want to determine the things that will make your life in your new home easier. We're talking daily-use items that you might need for your morning routine. If you're the type of person who frequently loses keys, it might be a good idea to prioritise a key hook. If you struggle to put on makeup in a dimly lit bathroom, installing new lights should be at the top of your list.
Setting your priorities for the first month
A good way to budget furnishing your new home is to give yourself a specific number of items to buy in the first month, then the second, and so on. Get together with your family, or significant other if applicable, and together determine what's most important.
It may be that energy efficient windows need to be prioritized over new curtains and blinds. Or, you could have to find a paint color that matches your living room set before repainting your bedroom. Regardless, be sure to budget all of your purchases so that you feel comfortable and ready to take on the first month in your new home.
What can wait
There are a number of items in most homes that are purely cosmetic or decorative. However, the cost of all of the decorations in your home can add up. If you're planning on starting from scratch with decorations, it's a good idea to hold off until you have the essentials. This is a good opportunity for you to find the right paint colors and decorations that match your furniture and appliances.
Now that you have a three lists for your home, you should be prepared to furnish it at a pace that works for you.
Working in your attic may not be a chore you perform frequently but it is one that must be done on occasion. Whether you use yours as a storage space or are performing an energy assessment in your home, safely accessing your attic should be a top priority. Below are some tips you can practice the next time you need to go up into the attic to ensure a safe working experience. Before you begin working make sure you have dressed appropriately. Wear a long sleeve shirt tucked into pants and gloves to avoid materials sticking to your skin which can cause irritation. You will also want to wear a dust mask and protective eyewear to avoid inhaling airborne fibers or other harmful debris that could be airborne in your attic. Attics can house mold and mildew among other hazardous materials that can bring you harm and/or make you sick when not properly protected against them. If your attic requires a fold-down ladder to access it check that the ladder is safe to support your weight. Look for any missing or loose screws that are intended to hold the ladder together and tighten/replace them before using it to get into your attic. You will be climbing up and down it as you work so you want to make sure that it will be safe to use. Adding a railing around the opening of your attic access will also add extra safety measures against falling. If your attic is unfinished and/or has potentially unsupportive flooring consider installing a safer floor by laying plywood down. Add walk boards or temporary platforms to an unfinished attic that doesn't require permanent flooring. Always be cautious of where you step to avoid stepping on wires, ductwork or areas lacking trusses and joists. This precaution will save you from accidentally breaking through the ceiling which will put you at risk of serious harm and some major repairs. You will also want to be aware of any roofing nails poking down or old faulty wiring that requires repair. Be sure to check for signs of any animals that may have decided to move in over the winter months. If you do discover unwelcome tenants take the proper course of action by hiring a professional to rid your attic of them safely for both you and them. Some animals, like bats, may be protected by federal law so you will want to rid your house of them responsibly. When you are finished working in the attic for the day be sure to change and wash your clothes to avoid spreading hazardous debris over the rest of your house. Before you begin working spread an old sheet under the hatch and vacuum the surrounding area afterward for easy clean up. Attic safety practices are crucial to avoid harming yourself and preventing damage to your home. With some simple preparations and an active awareness, you can get chores done in your attic effectively and safely!
Whether you've just bought a home or you're hoping to spruce up your current house, redecorating can be a great way to make a home feel new and exciting. However, when it comes to the actual decorating and design, many homeowners are at a loss.
Sure, you could hire an interior decorator to help you out, but oftentimes that expense doesn't fit into the average homeowner's budget, especially if you just spend thousands closing on a new home.
Fortunately, there are many free sources of inspiration available that will help you identify the right style for your home at the right price for your budget.
In today's article, we're going to give you some tips on where to find interior decor inspiration so you can get started on restyling your home.
Grab an app or two
Searching for redecorating tips doesn't have to be a full-time job. You can browse ideas when you're on the train to work, relaxing in bed at night, or waiting for an appointment at the doctor's office just by downloading a few select apps on your phone.
Two of the most common apps for home decorating are Pinterest and Instagram. However, you'll need to give those apps some information to make sure you're getting the right images in your feed.
On Pinterest, add "home decor" "interior design" and "home decor ideas" to your interests so that you'll see those images and articles first in your feed.
For Instagram, you'll have to follow accounts that post what you're looking for, then Instagram will recommend similar accounts.
Here are a few common interior design accounts to get started with:
Take an online course
There's more to interior decorating than just finding some furniture you like, making sure it will fit in your living room, and buying it. Design principles of color, texture, and form all work together to create the full experience of a home's interior.
While people study for years to develop techniques of design, you can learn the basics relatively quickly. If you're interested in learning something new and updating the design of your home, you could take an online course in interior design.
Howcast has a great series of free videos called Interior Design Basics that will provide you with a good overview. Then, if you want to continue learning, check out one of SkillShare's many interior design courses.
Take a trip to the library
When it comes to seeing the best examples of interior decoration or finding detailed information on design techniques, nothing can beat your local library. Most libraries also have subscriptions to common magazines like Better Homes and Gardens, Elle Decor, and HGTV Magazine.
If your library doesn't have many options, you can often request items for free through their interlibrary loans system. They'll send you books and magazines from surrounding towns and give you a notification when they've arrived.