This listing recently sold for $655,000.
Just Sold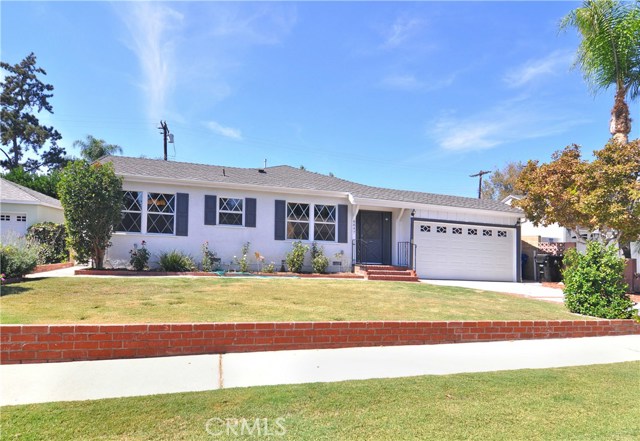 Reduced Reduced Reduced.....to sell!!! Submit your offer!!! This beautifully remodeled 4 bedroom 3 bath home is conveniently located to CSUN. With over 1800 sf, once inside you are wowed by the open floor plan and exposed beam ceiling. The expansive kitchen highlights white cabinetry that's accented by smokey gray counters. This focal point appeals to those who love to cook and entertain. Stainless steel appliances, restoration hardware inspired lighting, designer influenced center island, and oversized pantry not only pleases the eye but functions efficiently. Other upgrades of importance: plumbing, electrical, HVAC, LED lighting, flooring and many newer windows.. The master bedroom is truly a retreat where you are welcomed by a vaulted ceiling and sliding barn doors. Three other bedrooms are wonderfully sized with 1 being en-suite. A separate service room off the back provides for the laundry area and additional storage. Alluring curb appeal carries to the backyard, where there's a covered patio that provides reprieve from the sun while enjoying the scenery out back. Boasting a grassy area to enjoy along with an avocado tree, orange tree, and raised planter. Park the car in the 2 car garage and come home!!
Personal financial in your twenties comes with a steep learning curve. One minute you're studying for your finals and the next you're expected to suddenly know about APR financing, 401(K)s, and fixed-rate mortgages.
If you're in your twenties and are facing these new challenges, you're probably equal parts terrified and excited for the future. And, although it can be anxiety-inducing to step into the world of personal finance, you have one tool to your advantage that your parents and grandparents didn't have: the internet.
So, in this article, we're going to give you some tips about buying a home and managing your finances in your twenties.
Have an emergency fund
You probably have a lot of things you want to save for. Down payments on mortgages and auto loans, saving money for traveling, beginning your retirement funds, and maybe even starting a family; they're all important investments that will take time and financial planning to achieve.
However, one thing that many young people neglect when they first start saving is an emergency fund. There are any number of things that can throw a wrench in your plans in your twenties. You might lose a job and have to live off of savings while hunting for a new one. Maybe something goes wrong with your car and it costs hundreds to repair. Or, you could have unforeseen medical expenses that aren't covered by your insurance. Regardless of the reason, having an emergency fund will help you stay out of unnecessary debt.
It's recommended to have at least 6 months of living expenses saved in your emergency fund. Once you have this amount saved, it's a good idea to keep it in a separate account to avoid spending it on things that aren't exactly an emergency.
Don't live above your means
We all know that buying a house, going to college, and even buying groceries are all exponentially more expensive than they used to be. However, it's still important to try to adjust your lifestyle to the things you can afford.
This includes the vehicle you drive, the first home you buy, and even smaller purchases you make.
Avoiding lifestyle creep
Related to our last point about living above your means, lifestyle creep is the phenomenon that occurs when you get a raise or a higher paying job: the more we make, the more we spend. However, it's possible to avoid this trend by keeping your finances in check.
The next time you get a raise, make sure that money is put to use in either your retirement fund or savings account. This method is based on the goal of "giving every dollar a job." When every dollar you earn has a purpose, you're less likely to spend it on new video game consoles every six months.
Want to buy a house for the first time? Create a budget, and you can move one step closer to transforming your homebuying dream into a reality.
Now, let's take a look at three budgeting tips that every first-time homebuyer needs to know.
1. Don't Wait to Start Saving for a Down Payment
In most instances, a down payment on a home ranges from 5 percent to 20 percent. With a large down payment, you may be able to reduce your monthly mortgage expenses.
A lender may be more willing to provide you with a favorable mortgage if you can afford an above-average down payment. This means if you have plenty of money for a down payment, you could save money over the life of your mortgage.
2. Take a Look at Your Outstanding Debt
Student loan charges, credit card bills and other outstanding debt may make it tough for you to get the financing that you need to buy a house. Fortunately, if you pay down your outstanding debt as much as possible, you can boost your chances of buying your dream house.
Evaluate your current spending and make cuts if possible. For example, if you dine out several times a week, it may be more cost-effective to buy groceries and cook your own meals. Then, you'll have extra money that you can use to pay off outstanding debt and save for a house.
3. Understand Your Credit Score
Do you know your credit score? If not, you may be missing out on opportunities to eliminate outstanding debt and increase your home savings.
You are eligible for a free annual copy of your credit report from each of the three credit reporting bureaus (Equifax, Experian and TransUnion). Take advantage of this perk, and you can receive insights into your credit score.
If you obtain your free credit reports and find outstanding debt, you should try to pay off this debt sooner rather than later. Because the longer that you wait to pay off outstanding debt, the longer it may take you to acquire your ideal residence.
Furthermore, if you discover errors on a credit report, contact the reporting bureau immediately. This will enable you to fix any report errors before you get a mortgage.
If you need additional assistance as you map out a homebuying budget, it often pays to collaborate with a bank or credit union. In addition to providing you with multiple mortgage options, a lender will offer expert recommendations to help you budget for your first home purchase.
Lastly, don't hesitate to reach out to a real estate agent as well. This housing market professional is happy to help you get in touch with the best lenders in your area. And when you're ready to kick off your inaugural homebuying journey, a real estate agent can provide you with the support you need, precisely when you need it.
Use the aforementioned tips, and you can establish an effective homebuying budget.
Moving into a new home is an exciting time. As you look at each potential house you imagine yourself living your life there. Eating pancakes at the breakfast bar with your spouse, watching you children run around the large backyard, turning a spare bedroom into your own personal space. The expenses that come with a move, however, aren't quite as exciting. If you've stretched your dollar a little further than you would have liked but still want to turn your house into a home try these renovations that can fit any budget.
In the kitchen
Pick up some peel and stick vinyl from your home improvement store to add a new backsplash to your kitchen walls without the fuss of tiling. Upgrade your kitchen faucet to something sleek and modern or to a different finish that suits your taste. Install new drawer pulls to cabinets to add your own style to the room.
The Front Door
When you move you'll have lots of people stopping by to visit and admire your new abode. Make a great first impression by updating the front of your home. Paint the front door a bright, friendly color; yellow and red are two classic options. Installing a kick plate to the bottom of your door not only protects your door from everyday wear but also gives your door a more luxe look. Placing vibrant greenery and blooms by the front door, both inside and outside, makes any home feel more welcoming.
Bring new life to old furniture.
You don't need to rush out and buy all new furniture for your new home. Instead, alter pieces you already own. Give your worn-out sofa and arm chairs a modern update with slipcovers. Buy a colorful ottoman and some throw pillows to give your living room a whole new feel. Adding wallpaper or an accent color to the back of a bookcase gives the piece some flair for little effort. Artfully arrange books and knick knacks without overcrowding to bring a designer's touch to the room.
Tiny Changes, Big Impact
Sometimes it's the small things that make the biggest difference when updating a home. Swap out old, basic switch and outlet plates for ones with more style. With options spanning the ornate to imitation stone, you're guaranteed to find a style that suits your decor. Add bold new house numbers in a bright color or arranged in a unique way. The more creative you get, the bigger an impact you'll make. Install new light bulbs designed to bring a bright but friendly warm light to make each room feel more inviting.
Even if your budget is tighter than you would like there are still small home improvements you can make your new house feel a lot more like your home. Sometimes all it takes is a dose of your favorite color or the simple act of putting your own personal stamp on the place.
As a homebuyer, you likely want to do everything you can to ensure you can seamlessly navigate the property buying journey. Yet problems may arise that hamper your homebuying aspirations. Lucky for you, we're here to help you analyze the property buying journey and ensure you can avoid complications along the way.
Now, let's take a look at three tips to ensure you can minimize the risk of problems as you search for your dream residence.
1. Learn About the Homebuying Journey
There is nothing quite like buying a home. As such, you'll want to do whatever you can to prepare for the property buying journey to ensure you can limit the risk of encountering potential pitfalls.
Oftentimes, it helps to review housing market data related to residences in your preferred cities and towns. This information can help you assess the prices of available houses in your area and find out how long residences typically stay available before they sell. Plus, this housing market data may help you differentiate a buyer's market from a seller's market.
You also should establish realistic homebuying expectations before you enter the real estate market. In some instances, homebuyers require many weeks or months to find the perfect residence. But if you set realistic expectations for the homebuying journey, you may be better equipped than ever before to overcome myriad property buying challenges.
2. Get Pre-Approved for a Mortgage
A mortgage is essential for most homebuyers. If you secure a mortgage before you start your home search, you'll know precisely how much you can spend on a residence. Then, you can narrow your home search accordingly.
It generally won't take long to get pre-approved for a mortgage, either. If you meet with local banks and credit unions, you can review your mortgage options and select a mortgage that complements your finances.
3. Hire a Real Estate Agent
There is no telling what may happen as you pursue your dream residence. However, if you have a real estate agent at your side, you'll be able to prepare for any homebuying challenges that might come your way.
A real estate agent is a homebuying expert who is happy to teach you about all aspects of the housing market. He or she will help you craft a homebuying strategy, as well as respond to your homebuying concerns and questions. Furthermore, a real estate agent will maintain constant communication with you to ensure you can get the homebuying support you need, exactly when you need it.
For homebuyers who want to minimize complications, hiring a real estate agent is crucial. This housing market professional will set up home showings, help you analyze properties and enable you to submit a competitive offer to purchase your dream home. And as your home closing day approaches, a real estate agent will do whatever it takes to help you quickly finalize your house purchase.
Ready to buy a home? Use the aforementioned tips, and you can streamline the property buying cycle.